Starting Your Visit at Tabernacle Baptist
Sunday
Sunday School—9:30 AM
Morning Worship—10:30 AM
Evening Worship—6:00 PM
Wednesday
AWANA / Creation Club—7:00 PM
Youth Group—7:00 PM
Adult Bible Study—7:00 PM
Getting Here
Ripley Tabernacle Baptist Church • 330 Third Avenue • Ripley, WV 25271
Directions From Fairplain Exit
Exit off of I-77 North, turn right onto Route 21N. Come into Ripley, (approximately 4 miles) to the first stoplight. Turn right, then turn left at the stop sign onto Charleston Drive. Make your next turn onto 2nd Avenue. The church is located on the right.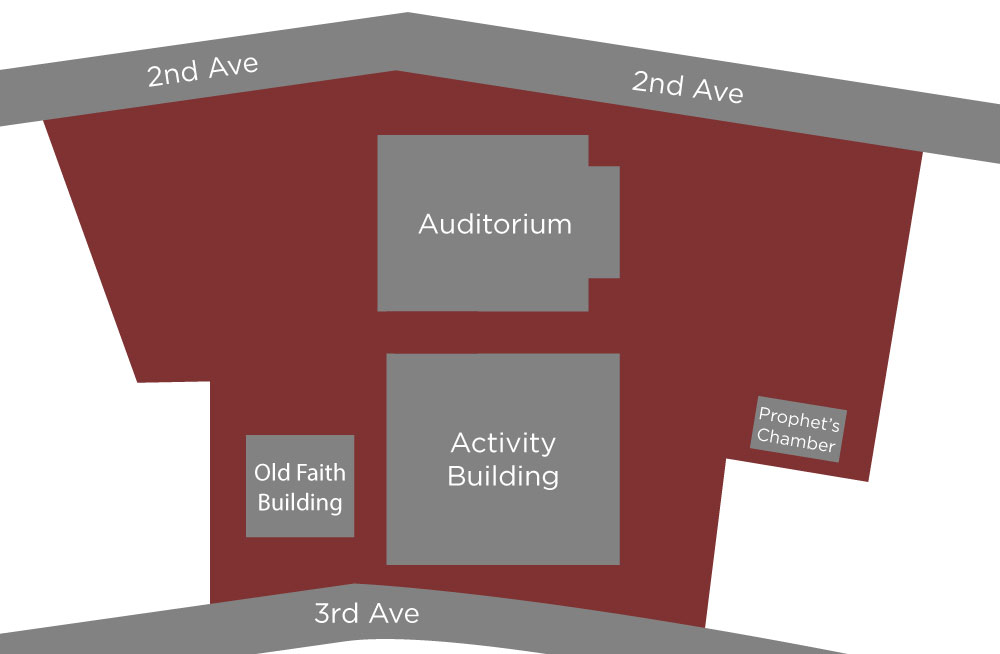 Directions From Ripley Exit
Exit off of I-77 South, turn left off exit ramp, then turn left onto Route 33 at the stoplight. Go through town to the 4th stoplight, turn right onto Route 21S. Go approximately one block, turn left onto Charleston Drive. Go to 2nd Avenue. The church is located on the Right.
What To Expect on My Visit?
Infant Nursery
Our Infant Nursery is for the precious ones birth through 1 year (or until they are expert walkers). This nursery is in our main sanctuary so Moms have easy access and there is a one way window into the room so Mom and Dad can check on them without disrupting the babies.
Preschool
Our Preschool Class is located in our Activities Building, and is for children ages 3-4 years. We welcome your children to our class, where we strive to teach love, discipline and understanding concerning the teachings of God's Word.
Toddler Nursery
Our Toddler Nursery, which is located in the Activities Building, has toys and games geared for busy toddlers. The toddler nursery is an energetic, fun, safe place for your young children to play, while you are enjoying the service. Ages range from 1 to 3 years.
Junior Church
Our Junior Church program meets during the Sunday morning worship service and provides age appropriate Bible stories , songs and crafts. We also have a puppet stage where puppets help teach the truths of the Bible stories and help the children to learn songs and Bible verses.
Choir Specials
Each Sunday service is launched with a lively, spiritual opening song by our adult choir; happy faces eager to proclaim praise to our Good God.
Children's Choir
The Children's Choir performs at various services throughout the year and is open to Kindergarten – 6th grade children.  The Children's Choir is under the direction of Jessical Walton and Jessica Boyce.
Orchestra
There are also people who volunteer their musical talents in other portions of the service such as playing an instrument in the orchestra, playing the piano or organ for an offering special, or singing a song of worship as a music special.
Special Music
The choir then follows it up with an inspirational special that sets the mood for the preaching to follow. None of this would be possible without the direction of the adult choir's director, Jeff Waybright, who faithfully serves week after week choosing music, practicing, and leading a group of willing individuals who simply wish to use their voices for the Lord.
Giving
We don't invite you to Ripley Tabernacle Baptist Church for your offering. We want our service to be a gift to you. We hope you will find in this place a warm family spirit, truth from God's Word, and a place where you can grow in God's grace. Please don't feel any obligation to participate in the offering as a guest.
Other Questions
If there's something we missed, just give our church office a call (304-372-2284) or ask one of our greeters when you arrive. Whether you're new to the area and looking for a church home, or if it's been a long time since you've attended church at all, we hope your first visit at Tabernacle Baptist will be awesome! Let us know how we can serve you better and we hope to meet you this Sunday!